Thanks to the dreadful first Panda Algorithm, the delightful day of Feb 24, 2011, turned into a nightmare for several bloggers and marketers. The damage in some cases was so intense that they had to rush to SEO company professionals to get the damage repaired.
What was Panda Algorithm all About?
Launched under the supervision of Matt Cutts, the leading member of Google Web Spam Team, this algorithm was meant to bring down poor quality sites, so that users get to see the best quality content in the top results of Google.
Google Panda is a long term change, involving several updates being launched after February 24, 2011. Unfortunately, several updates have come since then, making the scenario tougher for webmasters.
Features of Google Panda
Penalize sites containing low quality by bringing down their rank
On-page SEO is an important factor
Being particular about the quality of the content being posted is important
Google+ has become a significant part of SEO
Social bookmarking is not to be ignored
Google Panda 4.0 algorithm
As mentioned above, Panda has been quite a pain for those who were operating spammy sites containing irrelevant and bad quality content for manipulating their way to high ranks in Google. The algorithm has been here for quite some time, yet SEO company professionals find it quite difficult to figure out. It is particularly difficult to find out if a certain site has been hit by Panda or not.
Amidst such a circumstance, has come the newest update of Panda waltzing in, Panda 4.0, on May 20, 2014. However, much to everyone's relief, this one's not a harsh update but a much milder one as compared to its predecessors. Google Panda 4.0 is being used to refresh Google's data for adapting to fresh changes in their algorithms. This update is believed to impact about 7.5% English queries.
Google Panda Recovery Tips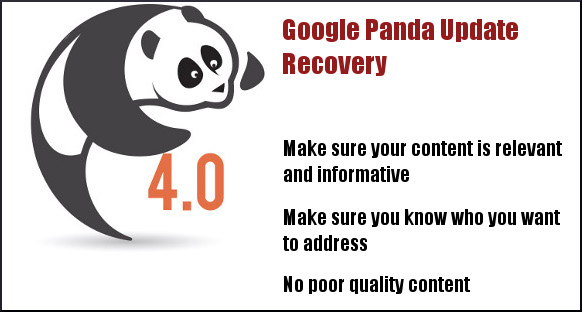 Make Sure your Content is Relevant and Informative
Gone are the days you believed in 'content for content's sake'. Now you need to make sure that the content that you are posting is relevant to your site and useful to the users. Content is now being set as a deciding factor regarding whether a particular site is good or a bad one.
Quality write-up comprises several aspects which should obviously make sense and should never be a worthless piece to read. It should have a flow and a goal of answering a certain query of a web user. The writing should inspire. Thus, content writers working at a SEO company need to focus on not writing for getting better rank, but for telling something to the reader.
Matt Cutts has stated that if you give valuable content to Google, it shall give you higher rank. It is a give and take system now.
When trying to write quality article, keep the following points in mind:
– Write longer articles while maintaining its quality.
– Write in your own unique style to convey your message. Do not copy anyone's style.
– Write to solve queries. The reader should find a satisfactory answer after reading your write-up.
Make Sure you Know who you Want to Address, i.e., your Target Audience
If you do not know who you are writing for, you can never write an attractive piece of content. Well, this is because different people have different taste. A single type of writing cannot impact all kinds of people. Moreover, you being a businessman, surely have a targeted group of customers. I mean you cannot sell a product or service that is useful to all and sundry.
Similarly, if you are a blogger, do not be a jack of all trades and a master of none. Instead, try to focus on a particular niche, rather than blogging on every kind of topic. Doing so will get you a particular kind of audience, thus, increasing your readership.
No Poor Quality Content!
Yes, you have heard this many times before, and you are striving to create good content. But, wait. You may still be going wrong. Wondering where? In not eliminating the low quality content that you had posted earlier. Work on the not so good articles that you had posted earlier. Try to make them more polished and a little longer. Try to include more relevant information and points in those.
If you think you have been hit by Panda, make sure you adapt the recent SEO trends to get higher ranks in search engines; and make necessary changes in old content on a regular basis to enhance the overall performance of your site.
Use Google Analytics to see the articles that have the greatest number of bounce rate, i.e., of over 80%, and work on them to lower the bounce rate.
Other Factors that you should Consider:
Here are few more things that you need to consider when trying to battle Google Panda:
Eliminate all copied content: Your endeavour of recovering your site from Panda attack cannot be successful until and unless you have got the site rid of all copied content. So, make sure you find and remove all copied content.
Consider SEO: Search Engine Optimization improves the visibility of your site; hence, it is something that you have to consider if you want to get featured in the first page of Google.
Social media promotion: If you want your articles and blogs to reach more and more people, you need to make sure you use social media marketing.
Build backlinks without spamming: Backlinks help a lot in improving the rank of your site. However, you need to remember that when considering backlinks, you should always focus on quality rather than quantity. Hence, a link from an authority site is much better than five links from poor quality sites.
Google Panda 4.0 is only a set of rules that the search engine has programmed for eliminating sites that are misusing Google for building links and getting higher ranks. However, according to a well-known SEO company, you can benefit from the new change because Google does not update its algorithms manually, but through an automated program. You can either win or lose. However, if you have to be on the web, you cannot shy away from these changes. So, face it and be the change.