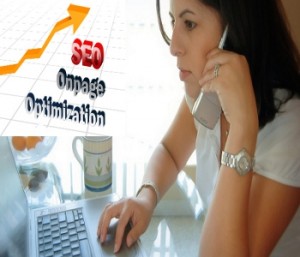 Onpage optimization is something that you cannot do away with. Extensive keyword research followed by onpage optimization can help you make your website rank high in the search engines.
A search engine is just a software application. To understand the topic or niche of a website it looks at few aspects of it such as the words used in website content, how many times a word has been used in website content, which synonyms have been used and many other things.
As a layman it might be difficult for you to optimize your website for a given set of keywords; to make things better you might end up doing over-optimization which can affect the website adversely. It is better to consult a professional SEO company and use their onpage optimization service.
Onpage optimization – Is it a one-time job?
Many business owners think that onpage optimization service is a one-time task and the SEO company should finish it up when the website is launched. This is not true always.
Major onpage optimization work is done when the website is launched; but that does not mean you will never need onpage work in future. Here are some situations when an already established website needs onpage optimization service:
Targeting new keywords:
When you decide to target new keywords, you have to optimize your website again. Either you have to accommodate the new word in the existing pages OR you have to create a new page for that particular keyword. Hence, you will need guidance from the SEO company to optimize the new page.
Sudden drop in website ranking:
Search engines keep changing their algorithm; if a minor tweak hurt your website's ranking you may need to adjust the onpage factors of your website by a professional SEO company.
Therefore, hiring an expert for long term would be a good idea. An SEO company can help you put all the onpage factors in place and offer ongoing support.
15 Positive Onpage Factors for Your Website
Here is a list of 15 positive onpage factors that you should take care of in order to secure higher ranks in search engines.
1.      Keyword in Page URL
2.      Keyword in Page Title
3.      Keyword in Meta Keywords
4.      Keyword in Meta Description
5.      Keyword in H1, H2 and H3 tags
6.      Keyword in Image Alt tags
7.      Keyword in the Anchor Text of Internal Links
8.      Navigation
9.      Code to Content Ratio
10.  Keyword Density in Page Content
11.  Quality of Content
12.  Fresh Content
13.  Page Speed
14.  Quality of Outbound Links
15.  Keyword in Domain Name and Domain Age
These are some of many onpage factors that influence the ranking of a website. An SEO expert or a professional SEO services company can help you put all these factors in place so that search engines recognize your website and you get better visibility.
Make sure you work with a qualified professional; over-optimization can damage your websites rank. Only an experienced SEO company can assist you to come up with a well optimized website.
In the coming blog posts we would discuss about the 15 Positive Onpage Factors mentioned above. Keep watching to stay updated.