Hello friends, today we have got the founder of the famous blog All Blogging Tips – Ammar Ali. He is a computer science student and a professional blogging enthusiast. All Blogging Tips is all about blogging, WordPress, SEO and Make Money Online. In this interview we will ask some interesting questions to Ammar and his valuable answers will help many newbie bloggers to succeed in this blogosphere.
1. Can you please introduce yourself and your blog to our readers? How you step into this field?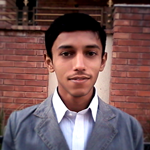 My name is Ammar, a young blogger continuously emerging on blogosphere with a aim to continuous help everybody interesting in blogging by my 2 years old blog, www.allbloggingtips.com. ABT is all about being dedicated to provide the best and quality knowledge about the topic to my valuable readers and the.
All this started in 2011 with a little knowledge about blogging and then I keep on excelling and my interest keep on building in all this and I keep on climbing the steps of success stairs.
You can continue reading more about my blog here.
2. Are you inspired by someone for blogging? If yes, then can you please introduce them and their blogs with us?
Bit hard to tell, actually it's no one. I read many blog to gather the knowledge and without any super hit plan or a super effective guidance of anyone, I kick start the things and Almighty helped me a lot to be where I am now.
3. How many blogs are you currently running? Are you monetizing your blogs? If yes, then what are the sources of your earning?
I'm focusing on only one blog at this time that is allbloggingtips. I will launch my personal blog in next few days. Your question reminds me a very famous tip in blogging that very rare bloggers actually act upon that is concentrate on just one quality blog instead of running couple of blogs having high bounce rate.
4. Are you following any SEO strategies to bring your blog in top ranking in SERP?
Proper keyword research, in-depth content and good onpage seo are tricks I follow to be an apple of Google's eye.
5. Which are the blogs do you follow regularly? Can you share it for our readers?
Actually, there are many.
Quicksprout.com
Shoutmeloud.com
wpbeginner.com
bloggingtips.com
And the list goes on…
6. Guest Blogging: a boon or curse for blog's ranking, which side do you take? Why?
Guest Posts plays dual role on blog ranking. If you will start accepting guest posts, you will end up in having links of some "bad" or non related websites to your blogs and Google algo updates will hit you so bad. But if you take guest posts carefully while keeping instructions of Google algo updates, then they really help you in increasing the ranking and value of blog. Moreover, an important point is that, you have to maintain the ratio of incoming links to our blog to the outgoing links from your blog, in order to get good ranking.
7. In the new era of semantic search do you think schema.org has got more importance?
Of course! This is what Google recently worked on and definitely to implement it Google will surely take steps so that bloggers and content mangers, follow those rules to fetch their blog or website on top page of Google.
8. What are the SEO tools do you recommend? Kindly share with us?
Long tail pro
Open site explorer
Ahref
9. Can you reveal the secrets of writing contagious content for blogs?
Just feel happy, let your mind to flow free, love that topic and masterpiece will be in front of your eyes in few minutes
10. Do you want to give any suggestions to all newbie bloggers?
Forget about making money at least 6 month of starting a new blog. Focus on building good audience and write quality content. Get back links from authority blog. Solve reader problems to increase interaction which will help you a lot in growing rapidly in blogosphere.
Thanks Ammar, for accepting our request for this interview. Your blogging knowledge and experience will be a great help to our readers. On behalf of our readers we wish you all the very best for your future!