We all know that search engine friendly copywriting can rank high on result pages. But, do you know how to create content that is not only appealing to the readers but also liked by Google algorithms? Make sure that you can hit your mark with good writing that caters to SEO tips. Good copywriting is after all engaging readers through authority in the approach of writing, so that an increased number of audiences buy your products or services and help you get high ROI. A site with high engagement is automatically ranked by search engine ranking pages. This blog tells you how SEO companies can assist you to gain the top position on search engine ranking pages through focused writing and long tail keyword.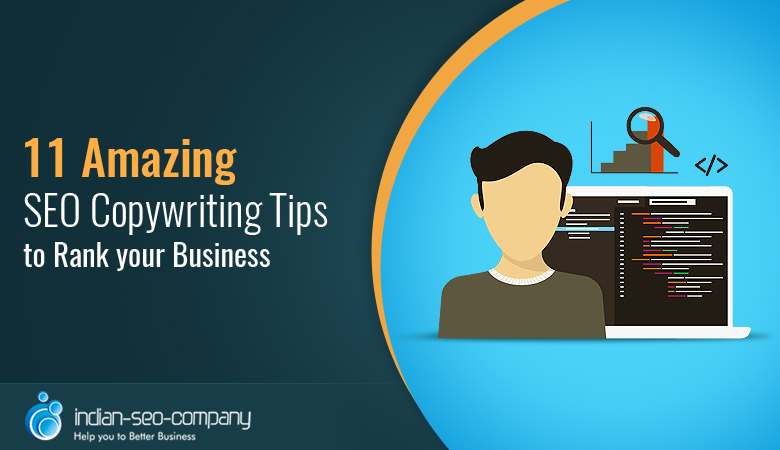 Check out the following
# Create magic with headlines
Headlines are the first things that grab attention. With a magnetic headline, which promises to offer answers to the queries of readers, you can make a deep impact on the minds of readers.
Now, you will ask how you can make your headlines attractive and attention grabbing. Let me tell you that there is no magic in this. It's all, however, a technique to create magic. How?
Instead of urging your readers to do something, why not tell them what benefits they can get. Here is an example,
Instead of writing 'emphasize on keywords,' you can try something like this:
Apply keywords to grab three times more attention of your readers
An expert SEO professional uses this technique and watch the change in the ranking of the page.
The secret is to tell the audience how they can win the race by listening to you. There are so many experts in the niche. Why you?
Now, that you have promised a solution, it is time to hold on to your readers. Show them what you have to offer for them in the few lines that you write.
# Do something different to appeal to your audiences
Present something unique to your audiences. Make your copy stand out.
Lines after lines of text and you think your readers love it. Well, first of all copywriting is not just all about writing. It is a way of attracting the audience with the perfect words. So, unlike service pages, you don't have to write and write and write. But, what if you have to write a few lengthy lines? Check out the following SEO copywriting tips.
Use a quote box to increase the appeal of your write-up
A quote box is any day a great option if you are quoting someone. Whether it is something said by a prominent person in the domain, a client testimonial or a few words by the CEO of the company; quotes are much preferred in boxes.
How do you think a former client will react when he or she sees how much effort you have given to state his or her opinion? You never know, he or she may even call you up to acknowledge your efforts.  Remember, a happy client is someone you can always bring back to offer more services.
Section banners make your write-up appear smart and alluring. I can't imagine a website without a banner. Can you? If your answer is similar to mine, bang on! Accompany the content with a charming banner and see the difference which unfurls.
Long-tail keywords can fetch you high visibility because they have low search volumes. Use them to enhance the visibility of your content and get high ranks.
Using long tail keywords is similar to using synonyms to make people understand your view point. By using grammatical variations in your keywords, you can make sure that a large audience connects to your style of writing. Otherwise, who knows, readers may as well ignore your written piece.
Here is one of the best SEO copywriting tips to get lengthy keywords:
Type your keyword on the search engine's search box. Take a look at what results you get and also the words in bold. Let us consider that you are writing about bags. When you type 'handbags sale', the bold words are.
Sale
Handbags
Purses
Designer handbags
Buy
An expert can highlight that search engines consider these terms similar to your keywords. So, what do you do?
Use those bold terms in your writing and see how readers stick to your site.
# Use effective words to hook your readers
Some words tend to grab the attention of your readers. They can increase the time readers spend on your page. However, you are wondering what these effective words are and how to use them.
Here is an instance,
Increase your visibility through our Internet marketing services like this.
Any person looking for a way to promote his or her business on the Internet will be captivated by your words.
Take a look at the following to get a better idea on the matter.
Now:
What's the bottom line?
What's the secret?
But here's the kicker:
Using these power words evoke emotions in the minds of your readers, so that once they visit a site they do not leave without making a purchase or deciding to come back during free time.
# Create a bang with what users want
Experts at SEO companies follow a maxim to offer what users want. Whatever they do aims at the needs of their audiences.
Let us imagine that you want to write on car repair services. Before you begin racking your brain for a suitable line, you should search on the Internet for what problems people have when they take their vehicles to the repairing station. Forums can be a lovely place to get new ideas. You will come across questions and queries of people who are worried about their cars – 'Will my car never run like it did before?' is the most asked question.
You can simply modify the key terms and make it your keyword like this:
'Your car will run like it did before….'
Trust me, you will find many visitors. There are several people who think that their car will never be like it was before. When these people try to find answers to their questions, they come across your write-up. In fact, your writing may as well be the first one on the search engine ranking pages.
# Brand your keywords to enhance engagement
Branding is a key, which can take your writing to the zenith of success.
So, you were wondering how to reach out to your readers and you knew that you had to use keywords. You have already realized the importance of long tail keywords and giving the users what they want through your keywords.
We can consider that you have hired one of the best SEO companies for your florist business. The first thing you need to do is brand your name or your business. However, the buck does not stop there. If offer a special flower or a special service, the write-up should mention that in the keyword. It can be something like this:
'10 minute home delivery from Keira's' or 'Special Dutch tulips and other blossoms' are other keywords that you can brand and that can give you rank.
# Make it clean and smart
The write-ups should be short and targeted. Instead of simply inserting a line from a page that seems to be similar to what you are trying to rank, it is better to write something that gives an idea about the page.  Focus on how perfectly and how quickly you can resolve the problems people are facing.
Make sure that content speaks how quickly and nicely you can come up with a winning solution.
You have added social sharing buttons, but you are not getting as much visibility as you desired.
What to do?
Here is your solution – add a tab or plain text link that urges readers to share your writing.
How exactly do you think you can pull such a feat? If you want to get tweets, an expert SEO professional with excellent SEO copywriting tips can help you out in this manner.
If the page is about social media marketing, the expert can find out the best solution or service you offer.
Next, he or she is going to click on 'basic link' and type the solution besides adding the link.
In the next step, he or she will click on 'generate new link.'
Once the shortened link is generated, you can share it, so that more and more people can easily click on it to share it.
# Add visuals to increase visits manifold
Graphics and videos can render high engagement on a site. No points for guessing that a site with high engagement can be ranked by Google. What shows, sells well. So, if you add photos, infographics, and other visual features, you can engage the greater number of audiences than you usually do. With higher engagement, you can increase sales and profitability of the business.
# Use specific keywords in your descriptions for e-commerce sites
SEO experts conduct some necessary research before coming up with keywords for e-commerce sites.
Let us consider this.
You need to rank a page for the keyword, clothes for children. If you search on an e-commerce site, you can come across many options just like you see on Google. The query for clothes for children may give options like,
Clothes for little boys
Clothes for little girls
Clothes for toddlers
Clothes for toddlers for occasions
You can choose any one of the long tail keywords and type it in search engine's search box. When you get the results, you will notice that the competition of the new keyword is lesser than the competition of the old keyword.
Professionals at SEO companies can use these keywords in your write-up and make it more attractive for your readers as well as search engines.
'Searches related to' is what you see when you scroll down a result page on search engines. All major SEO agencies follow this strategy to know about more keywords. Here, you can come across many more search words related to your query. In fact, the new keywords may not show in the keyword planner.
If you search for Internet marketing, you can do as I have asked you to. At the end of the first result page, you can see the following.
Internet marketing services strategies
Internet marketing company
Advantages of Internet marketing
The Internet marketing articles
Well, not just these, there are more. All you have to do is type in the keyword and see what the related searches bring to you.
All that an expert does is to pick those that suit your content and pop into your writing.
Want more long tail traffic? Here it is
You can create an account on a site as an information source which offers information to journalists. You can select the fields, in which you are an expert so that you receive queries regarding those particular fields.
If you choose internet marketing, you will receive queries from journalists who want to write blogs about internet marketing services or the benefits of the services. Read carefully the queries and take note of certain words and phrases. Those are catch words.
Wham! You can get a bunch of keywords from these queries. SEO experts can suggest you to sprinkle them all over your write-up to let your audience know that you have got exactly what they are looking for. This way, the site can have more visits and a lot of traffic engagement. And I hope there is no need to emphasize on the fact that the page will also gain rank on search engine result pages.
Use the above-mentioned SEO copywriting tips to get the sure shot response from audiences and high rank on search engines. If you have not tried them, yet its time you do. Waiting for your response!