Hello Readers! Today, we have with us Amar Ilindra, the founder of the renowned blog Geek Dashboard. Geek Dashboard is a fascinating blog about technology and blogging. In this interview Amar will share with us some interesting stuff about blogging which will surely help newbie bloggers.
1. Firstly Amar can you please introduce yourself and your blog to our readers in brief?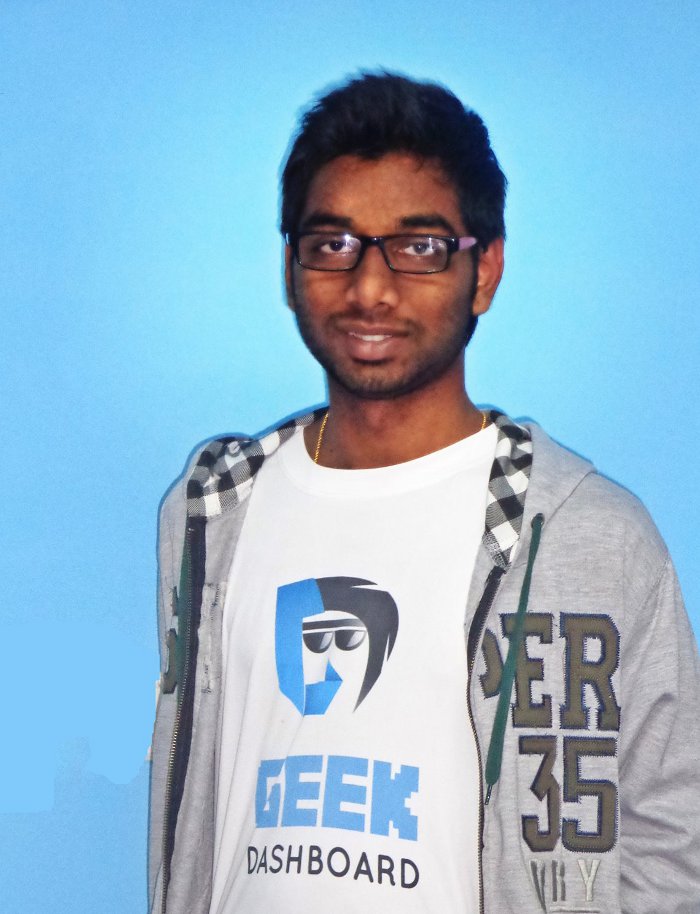 Thank a lot for this opportunity to share my experience about blogging with your readers. This is Amar Ilindra, from Andhra Pradesh; Ongole, currently doing computer science engineering from my native. I founded a blog GeekDashboard.com when I was doing my 12th grade in 2012 January. I update it regularly with latest information and tutorials. Geek Dashboard, mainly dealing with Technology stuff and sometimes with blogging niche as well.
2. When did you start blogging and what was the inspiration behind it?
No one inspired me to enter this blogging filed, it happened without my knowledge many years back. I entered blogging without knowing anything about it and I created my first blog at blogger.com in 2010. Later in 2011 I test the depth of blogging field and manage a tech blog (dead now) for about 5 months and in early days of 2012 I shifted to WordPress and bought a custom domain and started this Geek Dashboard.
3. Can you please reveal the SEO strategies you are using in order to save your blog from any Google algorithmic updates?
Google frequently changing its algorithms. SEO before 2 years and now is completely different. When I started my blog, I did hell lot of off-page optimization by making use of Guest Blogging, blog commenting, web 2.0, forums etc. Currently most of them are dead and now I'm only concentrating on writing ever green content with proper on-page SEO. Never follow any black hat techniques to rank you website well on Google. It never work; Google is smart enough to penalize your website.
4. Matt Cutts recently told that guest post if done with an objective to gain links then it would be considered as spam. After this, do you really think Guest blogging is dead? Apart from guest posting how do you generate backlinks for your blog?
I noticed Guest blogging in of no use from last 4 months. I stopped doing guest posting 6 months ago when I observed negative impact on my posts whenever I build a backlink via guest posting. I rarely concentrate on building backlinks now. I rarely do commenting with my homepage link on some really big blogs and that too not for building links. I guess building links naturally is the best working way now, i.e. Getting a backlink in the name of "credit".
I suggest every blogger to interlink posts in their websites (not with keywords). It helps you to reduce bounce rate which is a major ranking factor.
5. Can you please share with us the SEO tools you can't live without?
I use LongTail Pro, Open site explorer, Crazy frog, Market Samurai, Google Keyword tool and lots more. They help me to pull profitable keywords and to discover any errors within my site.
6. What are the blogs do you follow on regular basis? Can you share its name with us?
I follow quicksprout and ShoutmeLoud for SEO. As my blog is mainly dealing with Technology, I visit Mashable, Labnol on regularly to keep me updated on latest news. I visit GSMarena to know about upcoming smartphones.
7. In this blogosphere there are several popular tech blogs available, what are the strategies you have adapted to stand out from the crowd?
Writing content and promoting it in all possible ways is the best way I recommend. Along with them go with a unique web design which is easy to navigate and user friendly. As I'm good at coding, I customized my website theme and made it unique. Arrange monthly giveaways on your blog to get new readers and if you're a student promote your website in your college/shool and create a brand image.
8. Do you really think that visual content has got more importance than the text? For our readers can you share some tips on content marketing?
Not exactly but yes, in some fields like promoting. Infographics may not work in my tech niche but video tutorials does. For example posting memes with your links in description at Social media with drive lots of traffic to your website. Depending on your niche, go with text or visual content. But still according to me text content is playing key role in Tech niche
9. What are your future plans? Will you like to share it with us?
I will continue in this blogging field and will try to take GeekDashboard to next level. I'm trying hard to build a brand. I'm planning to take seminars and conduct workshops at schools and colleges to make people aware of this profitable blogging field.
10. What is your advice for those who have just created a new blog?
I suggest every newbie blogger not to blog for money. It is now very hard to earn like past. It takes many months to get your first income from your blog, but once started it money will start flowing. Keep your patience and concentrate on writing content and promoting. Trust me your friends will help you a lot, never neglect them and they're one who'll support you in blogging. Select a SEO friendly theme and start doing SEO from the early days of blog and never over optimize your content. Good luck!
Thanks Amar for giving us your valuable time and sharing your blogging experience with our readers.
On behalf of our readers we wish you all the very best for your future plans!