LinkedIn is probably one of the most popular business-based social networking sites available today. The fact is, I am an active member of it and have enjoyed tremendous advantages using it. This popular social networking site continues to increase its member list. Presently, the number is somewhere around 400 million! But my question to you is: "are you being able to use this excellent social networking portal to its full potential?" Speaking from my personal experiences and feelings, LinkedIn could be extremely beneficial and powerful. Once you are accustomed to all the hidden features of the platform, scenarios would become bigger and better.  LinkedIn marketing has proved to be a saving grace for my business. I am sure that it would serve your purposes well, too. Before providing you with some essential tips and tricks on how to utilize the resources of LinkedIn in a more effective way, allow me to brief you about this social portal.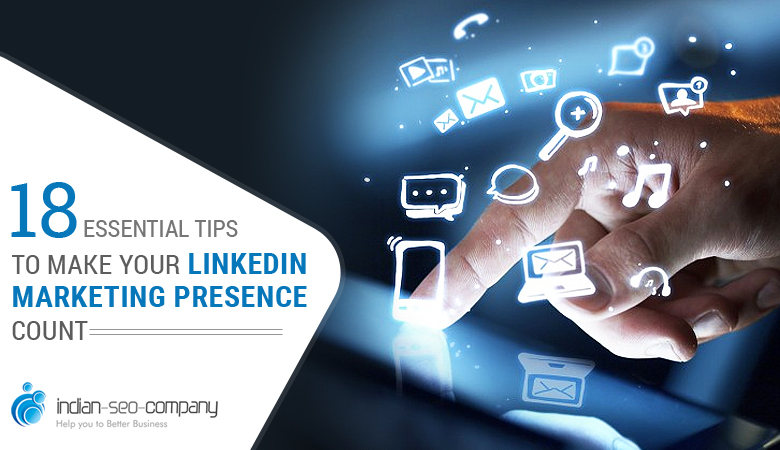 What exactly is LinkedIn?
LinkedIn is a social sharing platform launched in 2003. Standing in the present era, it is rated 3rd in the popularity list for social sharing network sites, standing just behind Facebook and Twitter. However, LinkedIn is primarily centered on careers and professions. It is a social sharing network to get connected with professionals, business partners, colleagues, potential clients, etc. The entertainment part is lagging in LinkedIn. But, at the same time, it is a high utility platform for anyone and everyone who are more into career and profession.
Now, coming back to my actual intention – to make you and all my readers utilize the resources of the LinkedIn marketing agency in a more convincing way. Let's start:
You need to customize your URL for a public profile
One secret to easy sharing is through customization. I have achieved tremendous success in customizing my LinkedIn public profile based URL. Once your personal profile gets groomed to a more professional appearance, you would find it easy enough to share it. Try to keep it clean and compact, instead of having several confusing numbers at the end.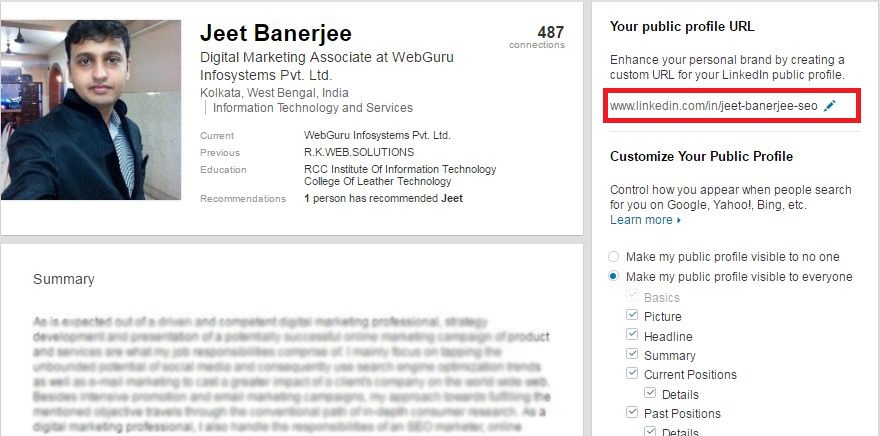 Include a background image to your LinkedIn personal profile
You must add a background image to your LinkedIn personal profile in order to flaunt your personality a little bit more. I have personally tested it with positive results. Just remember; LinkedIn is a professional social networking site. So, when selecting the image, be professional in your approach.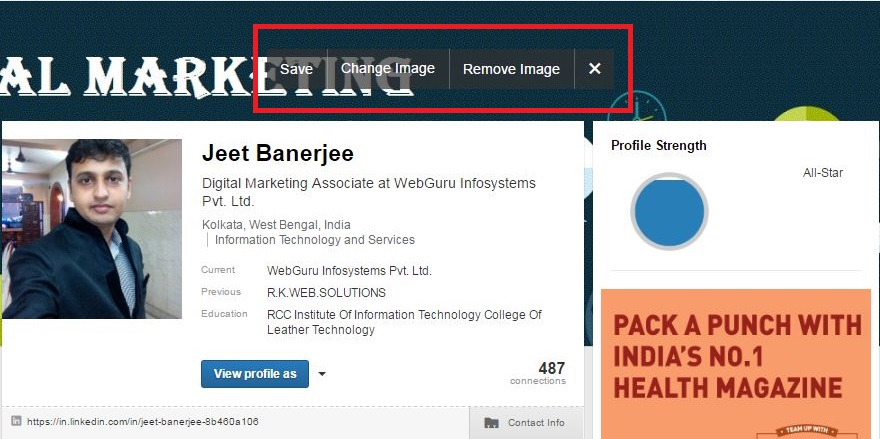 Develop a profile badge for your blog or personal website for greater impact
I developed a profile badge for my personal website. You should also take this approach. Be it your blog or personal website, adding a profile badge to link your public LinkedIn profile to the site can be highly beneficial. It is a great LinkedIn marketing strategy to promote your presence in the LinkedIn world. There are several kinds of badge designs available in LinkedIn. You can even configure your own badge design. Get the profile badge developed and attach to your website or blog for formidable presence in this professional social networking site.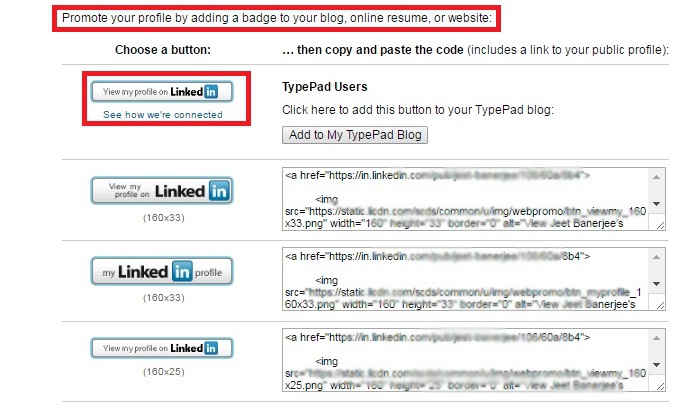 You must optimize the anchor text for weblinks on your LinkedIn public profile
As the heading suggests, optimizing the anchor text for websites and blogs within your public LinkedIn profile can be highly appealing to all those who would be viewing the profile. From my experience, I have found it to be extremely beneficial, since it helps in increasing the clicks of the website link being displayed. It also helps in attracting more targeted visitors.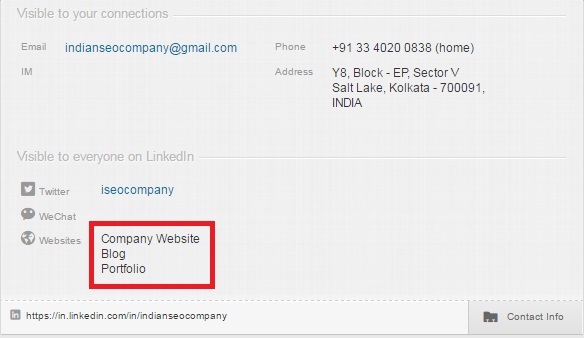 Include search engine friendly keywords into your LinkedIn Profile
I always enjoy strong traffic presence into my LinkedIn profile. Several comments like, and questions flood my profile box. All this has been possible because of the use of search engine friendly keywords in my profile section. You can also apply this trick to make your LinkedIn presence felt largely by the masses. Simply include the widely searched keywords to different sections of your LinkedIn marketing profile. Never forget to include keywords at the headline as well as a summary.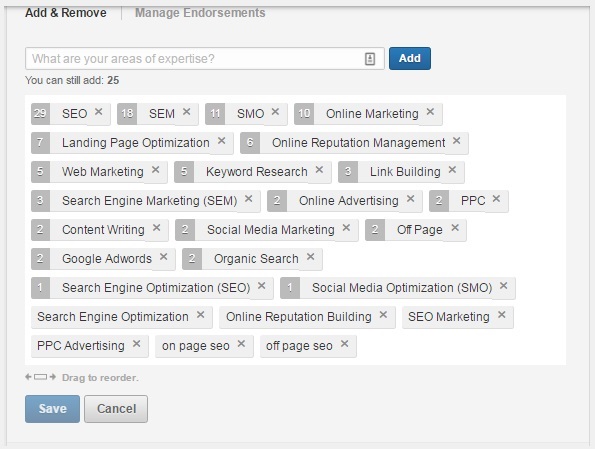 Uploading interesting attachments and highlighting your work samples
Must you be aware of the various sharing options being allowed by LinkedIn? I was unaware during the earlier days, but after some research, it became all clear to me. Since then, I have been uploading different media items in the format of video, documents, PowerPoint presentation, links, and images.
Showcasing the talents
I have always emphasized on showcasing my talents. Continuing the discussion from the previous point and showcasing the talents through the inclusion of presentation plus informative content have proved highly beneficial for me. What this does is enable you to showcase his/her different talents and association with different types of projects and services. It is considered to be a highly effective LinkedIn marketing strategy to produce quick and fruitful results.
You must update your profile at regular intervals
You must update your LinkedIn profile at regular intervals. I often reorder my entire profile section. This helps in garnering interest level among the viewers. You should also do so. Try to include information about your latest projects, success stories, and other related objectives. You can also include images and white papers to make the profile reordering part look more attractive.
Taking advantage of saved search is also beneficial
You must take advantage of the Saved Search option. Trust me, it's an extremely effective linkedIn marketing strategy, which reaps in positive results. LinkedIn allows every user to save a maximum of 10 job searches. Additionally, it offers the option to save 3 people searches. Once the searches are saved, you can receive reminders on weekly (or even monthly) basis through your email as soon as a job matches the saved search criteria. It is also effective in getting connected to new members in the network.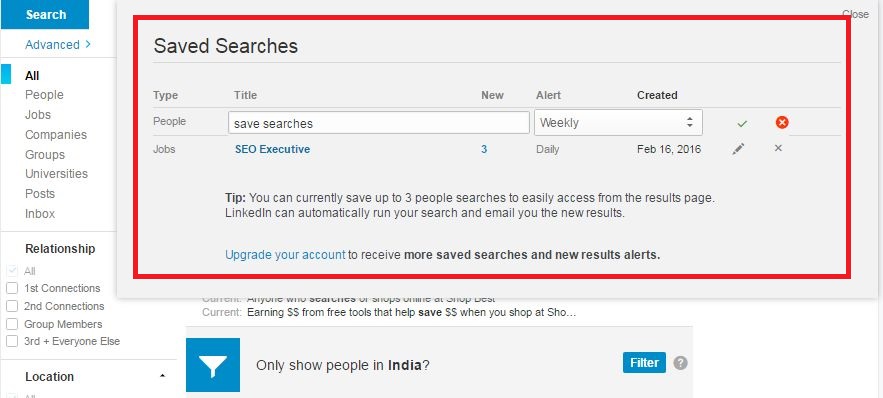 You can also transform your LinkedIn profile into a highly functional resume
What was my ultimate purpose to be on LinkedIn? Definitely, to seek great job opportunities! In fact, job seeking is the most common activity for LinkedIn members. Creating a network of influential people, seeking a job, marketing business & services and selling ideas are common goals to open a LinkedIn account. So, why not take advantage of LinkedIn's profile to resume feature and convert your profile into a resume format? It features the resume Builder tool that could get the job done within minutes. There lies a lot of templates to select from. Choose the one that touches you most, edit your information and get it exported into the PDF format. That's it! You are ready to share, print, or email your resume.
You can utilize the Job Posting Section of LinkedIn for job vacancies
Once you have successfully generated the resume through LinkedIn, the next step is to use it to search for new vacancies via the LinkedIn Jobs section. Trust me; I have been highly benefitted through this process. No doubt, it delivers.
You can easily use the Advanced Search feature to look out for jobs and opportunities while filtering through industry, keyword, locations, function, company, experience level, etc. The Advanced Search option is highly beneficial for the business and services sector equally. It is a highly convincing LinkedIn marketing approach to cater to the targeted group.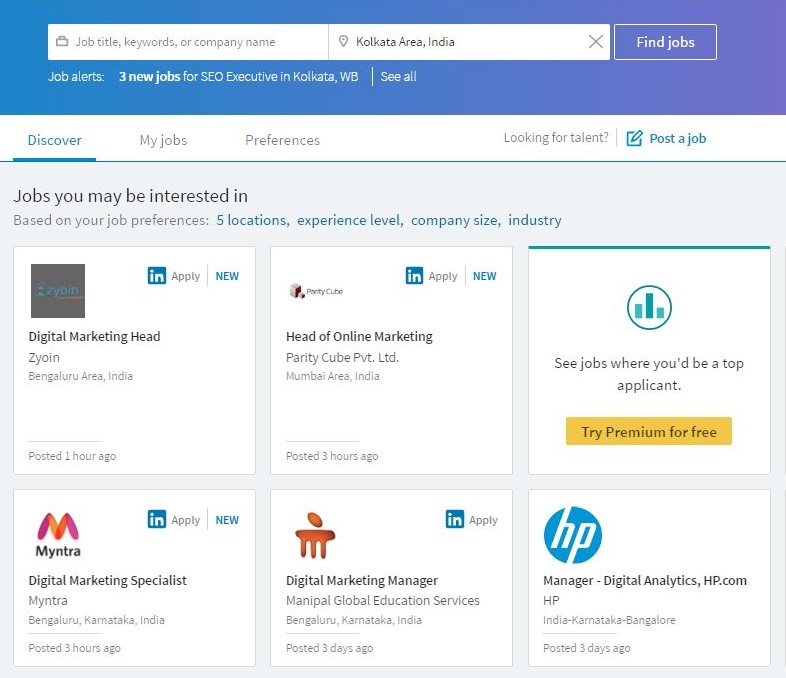 Showcase your skills and get endorsed
LinkedIn comes with a feature known as Endorsements. Using this feature, you can endorse your connections according to the skills. You can even recommend the members of your network to showcase their skills. This  allows  the endorsements to get highlighted on your profile within similar Skills Section.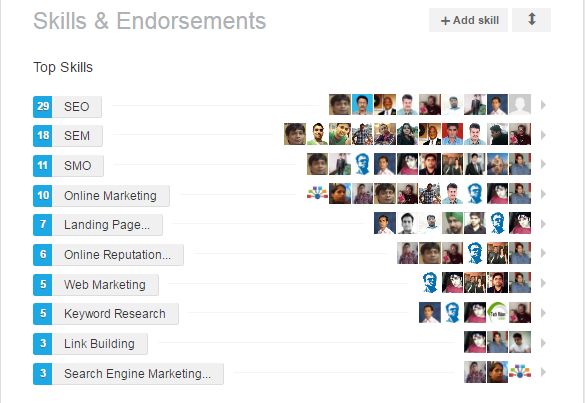 Getting connected to people you are not linked to can be done through the instant message sending option
LinkedIn allows the users to send messages to people with whom you are not connected. I have sent so many messages to different unknown, yet influential people who are not even on my network. And guess what? Many times, they have replied and added me to their network. It ultimately helped me in expanding my network and getting influential leads. However, you need to be a premium account holder to enjoy this facility.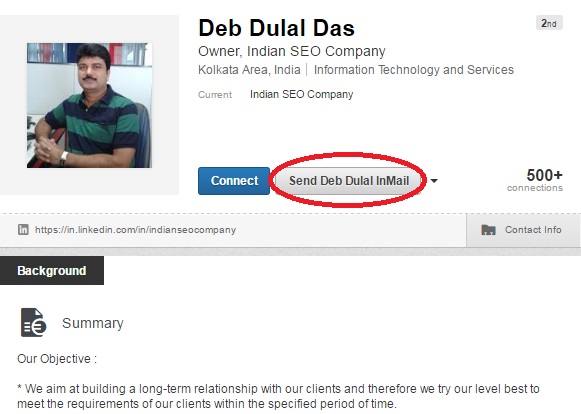 Sharing your own network updates is highly beneficial
You can come across the Network Updates tab in your LinkedIn homepage. It is primarily a type of News Feed you must have noticed several times on Facebook. Check it often to remain updated about the performance and activities of your connections. I personally share the updates concerning my career prospects and related industry. You can also do the same and share contents, news, and information. Regular network updates are considered to be a highly effective LinkedIn marketing strategy.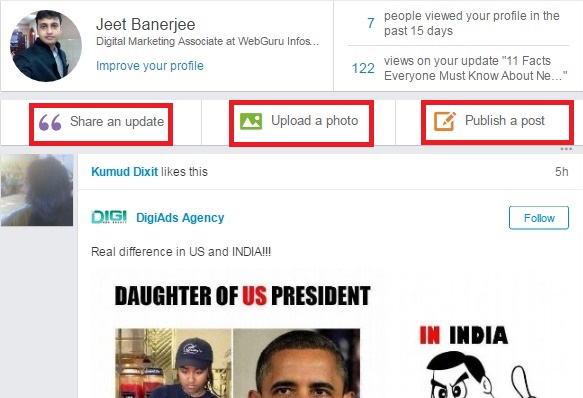 Try to be easily recognizable
You need to be identifiable. Others should be able to view your profiles. Be open to the crowd. I have made my LinkedIn Profile accessible to anyone and everyone. I don't want any restrictions. Let people see who I am and what I do. I want publicity and being easily recognizable helps in marketing myself. Yes, I want to market myself, my abilities and develop a network greater than anyone can even think of. I am steadily moving towards my goal. What about you? If you want your LinkedIn profile to reach the maximum audience, allow it to get accessed by others too. To do so, click on the LinkedIn Settings tab and open the Manage option. From there, you need to visit the Profiles tab followed by entering the Privacy Control section. Just keep the editing permission private. Remaining, I mean the accessing and viewing part must be kept open.
Who viewed my profile?
Don't you want to figure out the ones who have viewed your profile at the LinkedIn today or the day before?  I do! LinkedIn comes with the Who's Viewed Your Profile option. This is a cool and effective tool that could be accessed through the Main Menu under the Profiles section. Enabling this option allows you to figure out those individuals who visit your page. This feature can play a bigger role in the LinkedIn marketing approach at a later stage. For me, it helped in figuring out new sources and targeting some bigger business groups. Definitely beneficial, you bet!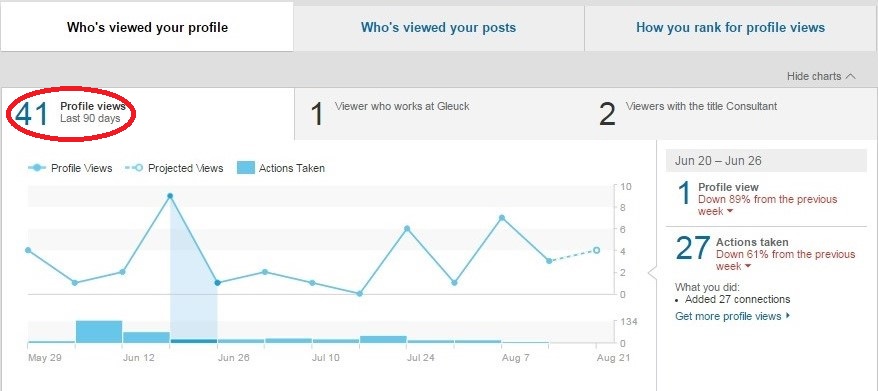 Plan your approach properly
LinkedIn marketing options are available for those who plan to utilize this social networking site to promote their brand and services. Have a blog? Opened a new business? Want to explore the e-commerce industry and make a positive impact? Well, this is the place you should visit and register. This is the place that offering you the ultimate opportunity to think big while catering to your needs and requirements. It is all about shaping up the future and making a name in the industry that you plan to be a part of. LinkedIn guides you to take the right steps and make the road smoother for you to reach the goals successfully. The only thing required – use it effectively and in a way that it demands to be.
Remember, LinkedIn is a professional platform, which needs to be studied well in order to get hold of its secrets. It took me nearly six months to figure out the hidden features of LinkedIn. But once done, it has benefited me immensely. In fact, my career progress chart has been continuously on the higher side, once I started accessing LinkedIn features effectively.
Conclusion
So, here are 18 most effective ways to make your LinkedIn surfing part count largely. It is all about figuring out the right moves to make LinkedIn work positively for you. It is not like those regular social networking sites, like Facebook and Twitter. Here, the entertainment elements are minimal. No flashy pictures or gossip news are available to spend the hour. Instead, LinkedIn marketing is all about creating a professional network to enhance your career opportunities while utilizing the definitive skills you possess.