The euphoria and the excitement brought by the new year is coming to an end. It is time to pull our sock up and get into some serious business, as this time we have to face far more challenges with Yahoo going kowtow to Bing and as Google promising to come up with a new and better search algorithm. So, if you do not to want lose your top rankings in 2011 (you simply cannot afford it right?), you need to prepare a not-to-do-list this time around and we are here to help you to sort them out.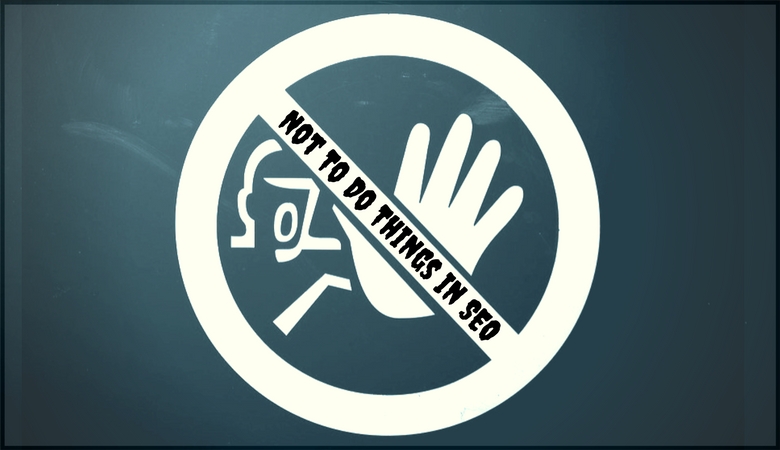 No More Spamming: Spamming can kill your website literally. Try hard to overcome the temptation of stuffing keywords forcefully in the body content, using automated software applications for blog commenting, forum posting etc. In short, you should all possible methods that run the risk of being tagged as spam as far as possible. As search engines are becoming smart to track spam, you should not go off the guard while offering SEO services for your clients .
Do Not Hide Anything: It is time to unmask everything. Do not stuff keywords in the images or add background color keywords to make them invisible to the readers. This might help your website get some quick ranking but if you get caught, your website will get banned for once and all. So, avoid these spammy tactics at its earliest if you have a long-term plan.
Do not Play Trick With Google Local: – Google Local is hard pressed to fight out the spam and it is taking every possible measure to weed those websites out that are purportedly manipulating its algo for securing better positions in local search results. Some of the common practices are:
Use of irrelevant keywords in your places categories
Creations of a bunch of Google places that all use the same physical location
Ask people to write rave views about your local business etc.
Don't forget the fact that Google is smart to track them all.
Link Building: – Try to get links naturally and never buy links as Google takes it to be a sacrilegious offense. Here are some of things that you should avoid while building links for your website:
Reciprocal Linking is passé.
Do not take links from link farms.
Do not use the same description over and over again.
Do not take links from orphan pages.
Do not take links from irrelevant sites.
Page Rank Is Not Everything: – Do not give undue attention to Page Rank though most of us are still obsessed with PR. It does not have anything to do with the ranking of your website and that means, you should focus on getting better links from quality websites and keep your website updated with latest blog posts.
Do Not Follow Your Competitors Blindly: – If a website comes top in a certain query, do not jump to the gun and start following that website blindly. Do a through market research and come up with your own strategy rather than following the footsteps of others.