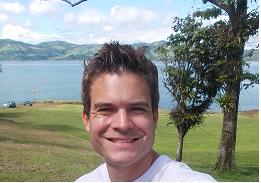 Hello Readers! Today with me is Ryan Biddulph, Founder of Cash With a True Conscience, a Leading Blog on Online Money Making, Tips, Updates and much more. Get more familiar with Ryan Biddulph and his Renowned Blog from this Informative Interview.
1. Although you are quite renowned, still can you introduce yourself once again to our readers?
My name is Ryan Biddulph. I am a blogger who shares free money making tips to help you live the happy internet lifestyle. I travel all over the world too.
2. How many years you have been into this Blogging Era? What inspired you the most?
I have been blogging for 4 years. Being free to travel wherever I wanted to travel inspires me!
3. Can you share some memorable moments of your Blogging journey with our readers?
Reaching 14,000 page visits on one day was a ridiculously gratifying day. Also, lowering my Alexa score to 39,000 really flipped me out.
4. With several other blogs being available in the Blogosphere, any strategies being opted by you to make your blog stand out from others?
Always make sure that your blog stand out, brand you, speak your voice and work like hell.
5. As Google come out with Algorithmic Updates almost at frequent intervals, any SEO strategies being adapted by you to save your blog from the grasp of Google Algorithm updates? If yes, kindly discuss with us in details please.
I use no SEO, or very little, to Google Proof myself.
6. What are the major sources of traffic for your Blog?
Social media sites, tribes and some search engine traffic flows into my blog.
7. Any SEO tools or plugins that successful bloggers use for their blogs? Do you use any, if so can you please share with us.
I like hootsuite; no SEO, but I like automating updates. So important for a busy world traveller like me. Buy the pro edition for increased returns.
8.  As you know that long tail keywords are very important for bloggers, can you share with us your secret to find ideal long-tail keywords for an article?
Not big on SEO at all, so I would say, write for people.
9. Do you have any advice for newbie bloggers? Please share with us.
Work smart, work hard, work long and hang out with inspiring bloggers to get through the tough times.
Thanks for sharing the opportunity with me!
Thanks again Ryan for taking your time and sharing your views and valuable experiences about blogging via this Interview. On behalf of all our readers, we wish you all the best on your future plans and goals on Blogging!    Wish you Success all the time!